Drilling all-in-one machine is a highway guardrail installation engineering machinery and equipment, it is upgraded by the guardrail piling machine, on the basis of the guardrail piling machine, add drilling device.
As the current Highway guardrail installation project, the vast majority of projects need to drill holes, then drilling machine also came into being, in order to save costs and improve ergonomics, drilling all-in-one machine by more users like. At present, the piling all-in-one machine has many models, the traditional drilling all-in-one machine has 230 and 260 models of guardrail piling machine configuration, at present, drilling all-in-one model is mainly composed of two parts, one is the traditional drilling all-in-one machine, there is a loading type drilling all-in Now a lot of manufacturers in the development of the so-called all-in-one machine, that is, in the loading type drilling all-in-one machine, equipped with air compressor.
Realize the true all-in-one machine. Drilling all-in-one machine is mainly used in highway security engineering waveform Guardrail installation, one person can operate, the traditional drilling all-in-one machine needs two people or with more than one person to operate, air compressor needs car distribution, and loading drilling all-in-one machine can be self-towing air compressor, saving construction costs.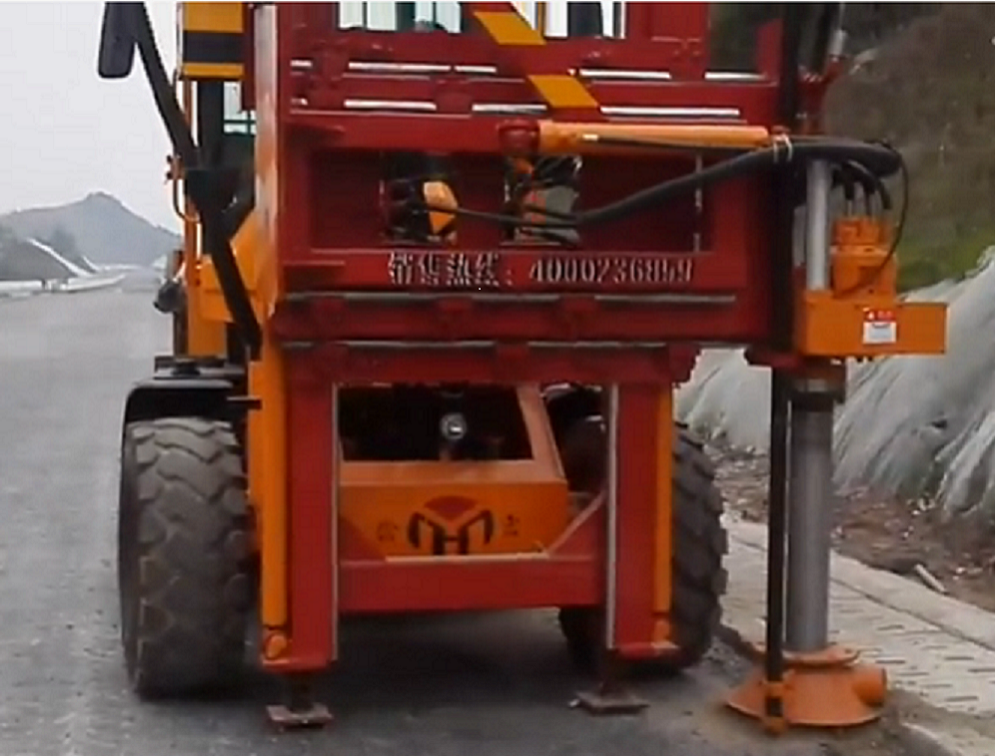 The six advantages of Honggong
1. Green Environmental Protection Design
Dust-free design and vacuum cleaning device, can effectively protect diesel engine, air compressor, slide rail, extend the service life of equipment, to achieve the operator in a complete environment to work, their own health can be guaranteed.
2.DRIVING and braking
The use of four-wheel drive, suitable for mountain ramps (≦35 degree), potholed pavement Muddy Pavement, the use of automotive outage brake design, better braking performance, higher safety and security
Construction pavement Multi-potholes, more is the mountain road and ramp, good braking performance in the stall or accident occurred, can directly hold dead roulette, effectively improve the safety and security of equipment and operators
3. Torsion and wind
Hydraulic rotary torsion force is used for the rotation speed of the drill bit, and the wind force of the air compressor acts on the impact head to the ground impact
When the rotation speed of the drill bit and the impact frequency of the impact head reach the optimal ratio, the drill bit speed is increased to the fastest
4. High efficiency engine
High power, low speed, high torque engine, powerful, more efficient
High engine efficiency, using direct fuel injection, turbocharging and other technologies
Up to 30% reduction in conventional engines with larger fuel consumption, smoother power output and reasonable design make it a profit margin of up to 90%
5. Fully Enclosed CAB
According to the ergonomic independent cab, the CAB is equipped with refrigeration and air conditioning to meet the construction conditions at hot and high temperatures, the control is the use of hydraulic controls handle, easy to control, fast and accurate positioning
The fully enclosed cab features noise and dust outdoors, as well as night lighting systems and reversing images to enhance the safety and security of the equipment in different environments
6. Gantry Fish Rail Design
Stable and reliable gantry structure, operation of the fuselage will not shake, drill arm extended to 35 cm, the fuselage is still stable, drilled out of the hole vertical smooth
Own product distribution team, complete product inventory, to ensure timely to meet customer needs The addition of rail type, so that the gantry frame will not deform, reduce machine wear, easy replacement of wearing parts, when working, the arm up and down the sliding speed is fast
CHONGQING Honggong Construction MACHINERY Co.,ltd specializes in the design, production and sale of Highway Guardrail Pile Extractor, Automatic Pile Driver, multi- Functional Highway Guardrail Pile Driver, Drum Type Mobile Concrete Mixer, Mobile Concrete Mixer,Wheel Loader and other series of equipment, Sell at the most affordable price, welcome to negotiate.
Looking for ideal Guardrail Post Driver Manufacturer & supplier ? We have a wide selection at great prices to help you get creative. All the Post Driver for Sale are quality guaranteed. We are China Origin Factory of Hydraulic Post Driver. If you have any question, please feel free to contact us.
Product Categories : Multi-functional Highway Guardrail Pile Driver > Pile Driver With Screw Air-compressor