92kw Arms loaded Highway guardrail drilling all-in-one machine, highway drilling all-in-one machine, also known as screw machine 6105 (8-8 screw machine 8 cubic screw air compressor) is mainly used for highway guardrail drilling, piling, the whole machine structure is reasonable, drilling stability is good, almost no jitter, drilling straight, piling fast.
Highway guardrail drilling All-in-one machine is from the traditional loading highway guardrail drilling machine and highway guardrail piling machine, air compressor comprehensive upgrade of the highway guardrail new drilling integrated machine equipment, screw air compressor integrated in the loader, no need to towed, it has a guardrail drilling and guardrail piling two functions, and has a certain ability to pull the pile effect, Realized a multi-use of a machine.
And it in addition to the function and ordinary guardrail piling machine and drilling machine has a certain difference, in the shape also has a certain difference.
Chongqing Honggong production of this Chongqing brand loading Highway guardrail drilling all-in-one machine using 92kw six-cylinder diesel engine to provide power, 8 cubic screw air compressor auxiliary pressure, with hydraulic sensing method transmission machinery operation, the machine operation efficiency is high, drilling quality is accurate, energy consumption is small, according to the formation of strong degree of conditioning punching strength and punching drill bit, With very good operating efficiency, with fast drilling speed, straight aperture, piling positioning, fast movement, high precision, life long, fuel-saving environmental protection, is a new type of highway anti-guardrail equipment, its piling efficiency is 1.5 times times the traditional car type piling machine.
In all kinds of messy strata of highway guardrail installation operations, screw-type Highway guardrail drilling all-in-one fully reflects its high quality, high efficiency, energy saving, high life, maintenance-free and other characteristics.
NOTE: Screw air compressor pressurized loading Highway guardrail drilling all-in-one machine compared to piston air compressor pressurized guardrail drilling all-in-one, screw air compressor generated pressure more stable, continuous pressure, stability, no pulse, in the guardrail drilling more efficient construction, more hydraulic power, Late maintenance is less (not like piston air compressor need to regularly clean the piston combustion chamber carbon and replacement cylinder liner, piston, etc.), can be said to be basically maintenance-free configuration, but the cost of screw air compressor than the cost of piston air compressor more than a lot more expensive, but in the long run, its economic benefits and customer experience will be better;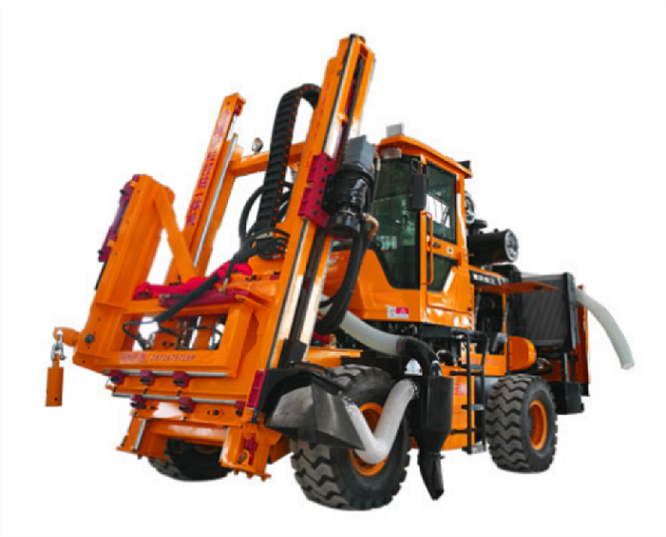 Product Features
Hong drilling All-in-one machine is composed of screw air compressor system, hydraulic system, power system and so on.

The company according to user needs, reference and absorption of similar models at home and abroad structural characteristics and advanced technology, combined with professional institutions, the development and design of small construction machinery.

1, Luxury cab: Wind and rain, dust, easy work;

2, engineering loader chassis, smooth walking, strong practicality;

3, front and rear bridge using hinge connection, in situ turning radius is small;

4, equipped with wind cover dust removal system, can cover 90% of the dust;

5, brand-name engine, front, rear axle drive-dual-bridge drive, strong power;

6, improve the hydraulic filtration system to ensure reliable operation of the oil road;

7, diesel engine rear, hydraulic steering, simple and flexible operation;

8, ultra-bright LED lights, strong warning effect;

9, drilling panel using door-type structure, strong products, drilling when the shaking is small;

10, drilling with imported hydraulic motor, large power, less maintenance;

11, increase the gearbox, drilling strong, full hydraulic operation, save time and effort;

12, equipped with drilling positioning and reversing camera, at any time to control the overall road conditions; It has the advantages of reasonable design, compact structure, flexible operation and convenient maintenance.

Its performance indicators are in the industry standard. It is widely used in construction engineering drilling, municipal engineering drilling, Highway guardrail drilling, piling, bridge drilling, urban and rural road guardrail drilling, piling, highway guardrail drilling, piling and other industrial and civil construction construction and other places, especially suitable for long-distance highway guardrail installation punching operations, can greatly improve work efficiency. The main parts of this machine are brand-name manufacturers of products, good interchangeability, reliable quality, adequate accessories resources.

Looking for ideal Loading Highway Guardrail Punching Rig Manufacturer & supplier ? We have a wide selection at great prices to help you get creative. All the Highway Guardrail Drilling All-in-one Machine are quality guaranteed. We are China Origin Factory of Loading Type Highway Guardrail Drilling Machine. If you have any question, please feel free to contact us.
Product Categories : Multi-functional Highway Guardrail Pile Driver > Pile Driver With Screw Air-compressor