Honggong drilling All-in-one machine is composed of screw air compressor system,
Hydraulic Pile Driver, power system and so on.
The company according to user needs, reference and absorption of similar models at home and abroad structural characteristics and advanced technology, combined with professional institutions, the development and design of small construction machinery.
1, Luxury cab: Wind and rain, dust, easy work;
2, engineering loader chassis, smooth walking, strong practicality;
3, front and rear bridge using hinge connection, in situ turning radius is small;
4, equipped with wind cover dust removal system, can cover 90% of the dust;
5, brand-name engine, front, rear axle drive-dual-bridge drive, strong power;
6, improve the hydraulic filtration system to ensure reliable operation of the oil road;
7, diesel engine rear, hydraulic steering, simple and flexible operation;
8, ultra-bright LED lights, strong warning effect;
9, drilling panel using door-type structure, strong products, drilling when the shaking is small;
10, drilling with imported hydraulic motor, large power, less maintenance;
11, increase the gearbox, drilling strong, full hydraulic operation, save time and effort; 12, equipped with drilling positioning and reversing camera, at any time to control the overall road conditions;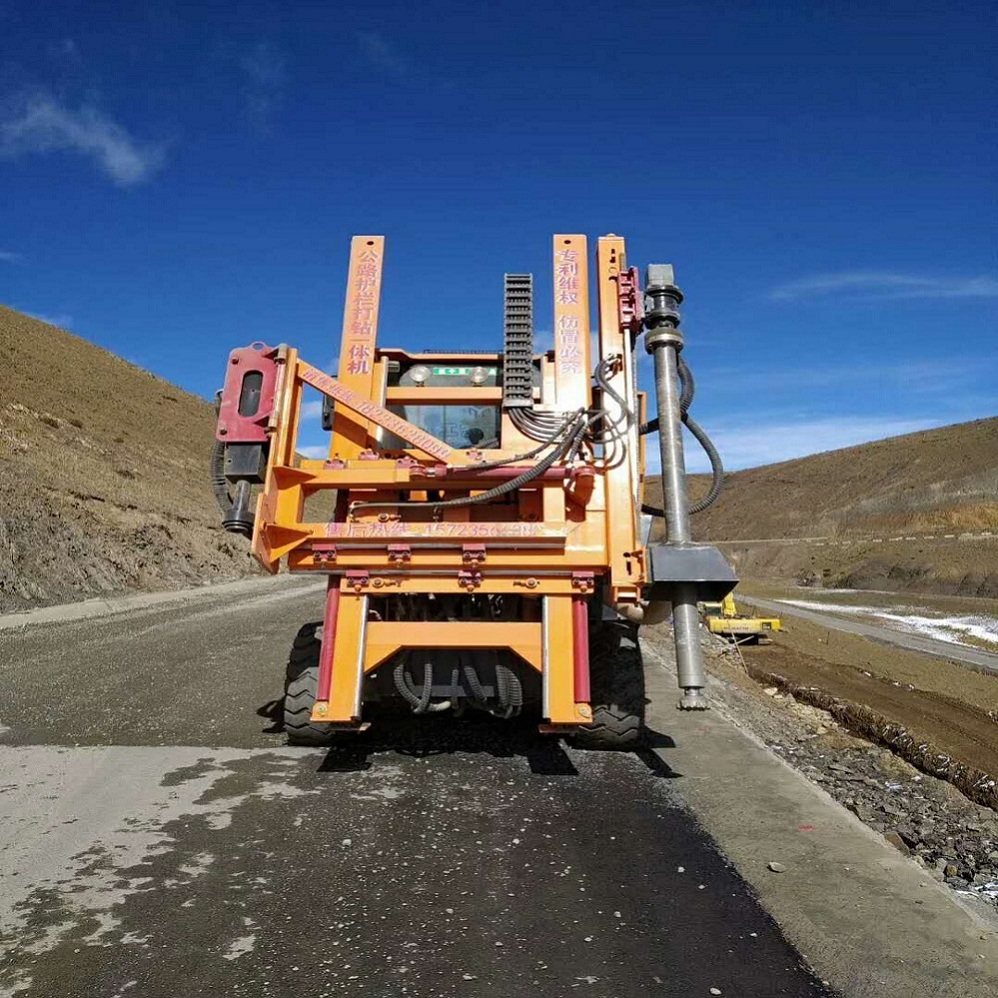 Multi-functional Highway Guardrail Pile Driver has the advantages of reasonable design, compact structure, flexible operation and convenient maintenance.
Its performance indicators are in the industry standard. It is widely used in construction engineering drilling, municipal engineering drilling, Highway guardrail drilling, piling, bridge drilling, urban and rural road guardrail drilling, piling, highway guardrail drilling, piling and other industrial and civil construction construction and other places, especially suitable for long-distance highway guardrail installation punching operations, can greatly improve work efficiency. The main parts of this machine are brand-name manufacturers of products, good interchangeability, reliable quality, adequate accessories resources.
Honggong drilling All-in-one machine precautions:

1, the construction site should be reasonable layout, removal of debris.
2, before or during the operation, the operator is prohibited from drinking alcohol, taking medication or eating any food that may weaken the ability to operate.
3, the rig began to drill, the operator must observe to understand the work Area line pipeline distribution map.
4. At work, all rig staff must wear helmets, overalls and work shoes.
5, before starting, the operator must complete the corresponding content of this class.
6, start, should first let the engine idle operation 5 minutes, winter 10 minutes, check the instrument, indicator light is normal, if there is no abnormality, can normally drill.
7, in the course of operation, it is forbidden to blindly press the drill bit.
8, often pay attention to the work of the whole machine, such as found that the machine has a different response to the immediate shutdown check.
9, often pay attention to the drill pipe work situation, if there is a drill tube can not rise, decline, left and right can not move and other phenomena or other abnormal conditions, should immediately report on the shift leadership, do not blindly deal with.
10, after the completion of the project, the rig must be cleaned, especially pay attention to cleaning the impact of the head of the gas hole slag.
11, in the rainy season operation, the work site must be equipped with rain prevention measures. 12, in the event of high winds or thunderstorms above level six, the machine should be parked to a safe area, power off, stop any operation.

Best drill machine in Honggong.
Looking for ideal Drilling All-in-one Machines Manufacturer & supplier ? We have a wide selection at great prices to help you get creative. All the Drill Machine Price are quality guaranteed. We are China Origin Factory of Best Drill Machine. If you have any question, please feel free to contact us.
Product Categories : Multi-functional Highway Guardrail Pile Driver > Pile Driver With Screw Air-compressor