Mobile Concrete Mixer uses Drum Beton Mixer system, stirring speed, uniform, faster than portable Millstone Type Concrete Mixer, even, the company's drum type Mobile Con Crete Mixer is a combination of existing concrete transporter and mixing station functions. Among them, the equipment can be automatically loaded, measured, automatically added water to stir, transported to the discharge, and can achieve transportation and site construction operations. It greatly improves productivity and reduces production time and costs. Suitable for all kinds of special environment, crowded urban areas and remote areas of engineering construction, no power supply, loaders actively provide sustainable power supply, can be in concrete pavement maintenance, bridge tunnel construction, Township Highway Construction, national defense facilities Base construction, high-speed railway construction, plant/
Construction floor construction and maintenance, such as the construction of special concrete structure mixing station away from commercial concrete, and equipped with car lighting system which can be used for night driving and construction, can realize 24-hour construction and improve work efficiency. To provide customers with the best solution for concrete mixing, transporting and watering concrete.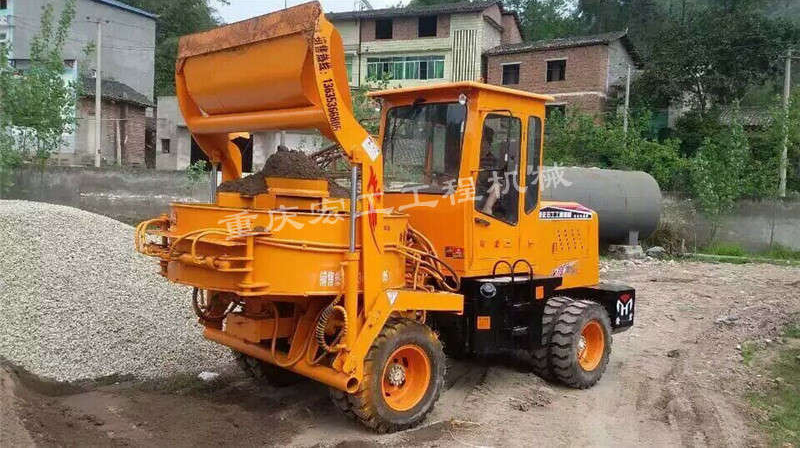 CHONGQING Honggong Construction MACHINERY Co.,ltd specializes in the design, production and sale of Highway Guardrail Pile Extractor, Automatic Pile Driver, multi- Functional Highway Guardrail Pile Driver, Drum Type Mobile Concrete Mixer, mobile Concrete Mixer,Wheel Loader and other series of equipment, at the lowest and most affordable price to sell, welcome to come to negotiate.